Science
At West Cliff we believe that teaching and learning in Science should stimulate and excite children's curiosity about the world around them. It provides first hand experiences and support for children to develop enquiring minds, learning how to question and discuss science through collaboration.
Starting from the views already held, children are given the opportunity to have their views challenged, to change their views and ultimately improve their understanding. A planned range of practical experiences set in meaningful contexts helps to develop a range of investigative skills and allows children to take risks and learn from their mistakes, developing them into independent learners.
We teach Science weekly and follow the National Curriculum Programme of Study. We also run an after-school STEM club and have an annual Science week to raise the profile of Science across school.
The teaching of Science is planned to help develop the key scientific skills of:
Asking questions
Hypothesising and predicting
Planning and carrying out a range of investigations
Using equipment correctly
Observing and measuring
Recording data
Presenting results in a variety of ways, including the use of ICT
Comparing and evaluating results, looking for patterns and drawing conclusions
We regularly use the five types of enquiry throughout out curriculum coverage. We use the symbols below in every classroom and in lessons to ensure children are able to explain the type of enquiries they are participating in.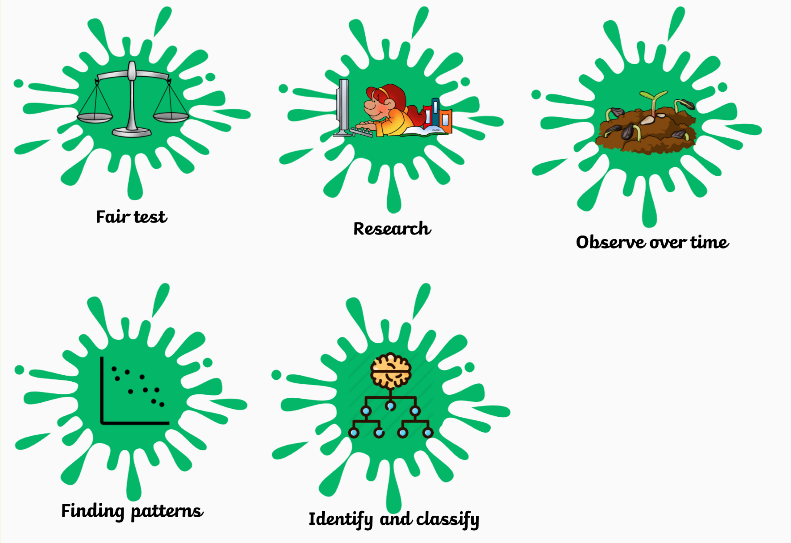 ---
---
Primary Science Quality Mark Gold
We are pleased to have renewed our Primary Science Quality Mark. This award recognises excellence in science provision across the school and it is really exciting to be involved in this scheme for a second time.